Intentional deep (abdominal or diaphragmatic) breathing in stressful situations can counter the effects of the stress response for most of us. Engaging in deep breathing can be beneficial in a wide range of everyday situations. Why? Let's take a closer look.
Why is deep breathing beneficial?
Deep breathing through the nose (as opposed to the mouth) is essential for the full functioning of the lungs and achieve the optimal exchange of gases. The health benefits of deep or diaphragmatic breathing are explained and illustrated here.
Have you noticed that when you get a fright you momentarily hold your breath, or that a big sigh is a sign of relief? In response to stress, we miss a breath or start rapid, shallow breathing. Our physical stress response alters the natural, automatic breathing. We can reverse this and reduce the effects of stress by consciously engaging in deep breathing.
Apart from these physiological benefits, focusing on diaphragmatic breathing can help disconnect us from our thoughts. We simply cannot focus on breathing, counting our breaths and feeling our body's response while still engaged in worrying thoughts. In a stress response inducing situation we can regain our calmness if we take a few deep breaths. We are able to override the fight-flight-freeze response with deep breathing.
What is the stress response?
The body's stress response is an important evolutionary function that protects us from being hurt. The physical symptoms of anxiety commonly include increased heart rate, muscle tightness and dizziness that come alongside with shortness of breath.
Here is how Veronica Walsh, a psychologist, a Dublin based CBT practitioner describes it in her blog:
"You're in bed. In a lovely deep sleep. You're woken by a crash sound somewhere in your home. A BURGLAR?! WHAT?! You are instantly alert – tilt your head back, eyes focussing in the middle distance for danger, ears straining to hear what's going on, your heart pumping and lungs expanding to take more oxygen, heat rising in your body, ready to take whatever action is required (this can include 'freezing' that enabled us to hide from predators)… then you hear your flatmate shout 'Sorry, only me, I dropped a plate'. Deep sigh as your body returns to balance…"
Click here to read the list of the Fight-Flight-Freeze physicality.
3 deep breathing techniques to reduce anxiety
1. Simple seated breathing exercise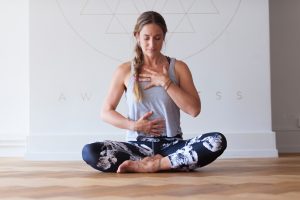 Sit comfortably and raise your ribcage to expand your chest. Place one hand on your chest and the other on your abdomen. Take notice of how your upper chest and abdomen are moving while you breathe. Concentrate on your breath and try to gently breathe in and out through the nose. Your upper chest and stomach should be still, allowing the diaphragm to work more efficiently with your abdomen rather than your chest. (source: www.betterhealth.vic.gov.au)
Abdominal breathing will elicit the body's relaxation response. As the breathing becomes slower:
– metabolism decreases
– heart beats slower
– muscles relax
– blood pressure drops
Practice daily for 15-20 minutes. As a result, you may see your level of anxiety reduced and the stress response, if and when it occurs, will become easier to control. Breathing techniques help you feel connected to your body – focusing on breathing brings your awareness away from the worries in your head and quiets your mind.
2. Hot chocolate breathing

Both adults and children can easily learn this wonderfully creative technique. Imagine that you are holding a mug of steaming, hot chocolate in your hands in front of you. Pretend that you want to smell this luxurious drink before taking a sip. Take a deep breath, as if smelling the hot chocolate, to the count of 4. Note: you would use your nose for smelling, similarly you will inhale through your nose when practising this breathing technique. Hold it for 1, as if enjoying the moment of sensual experience. Then let it out as slowly as you inhaled.
You can use cues in your daily life to remind yourself about practising deep breathing "on the go":
When you go outside at any point in the day, take deep breaths of fresh air.
Keep a tissue with a drop of essential oil on it on your desk to encourage breathing in the aroma.
When you make physical changes from sitting to standing, from standing to sitting, use it as a reminder to take deep breaths.
If your belly either aches or calls to you in hunger, use it as a reminder to breath from your abdomen.
And if you feel stress rising in you, use it as a reminder to breathe. (based on www.confidentparentsconfidentkids.org)
3. Box breathing

Divers, even the US navy seals use box breathing techniques to maintain calmness under pressure and to optimise oxygen intake. There are many different box breathing techniques but all based on similar principles. Inhale through your nose to the count of 4 or more if that is possible for you. Ensure that you breathe into the lower part of your lungs to get the diaphragm engaged. Feel your abdomen rise. Hold your breath to the count of 4. Then exhale to the same count that you used for inhaling: 4 or more. Visualising a square or a rectangle and moving your finger along the sides in one direction may help you master this exercise.
For an even deeper effect, you can intentionally relax different muscle groups in your body at every exhale. Close your eyes, if that feels ok. Feel where the tension is in your body. Inhale and think of letting the tension go as you exhale.
Yoga utilises the breath in many ways and incorporates breathing techniques into the practice. Click here for detailed instructions of three pranayamas (or breath control) exercises.