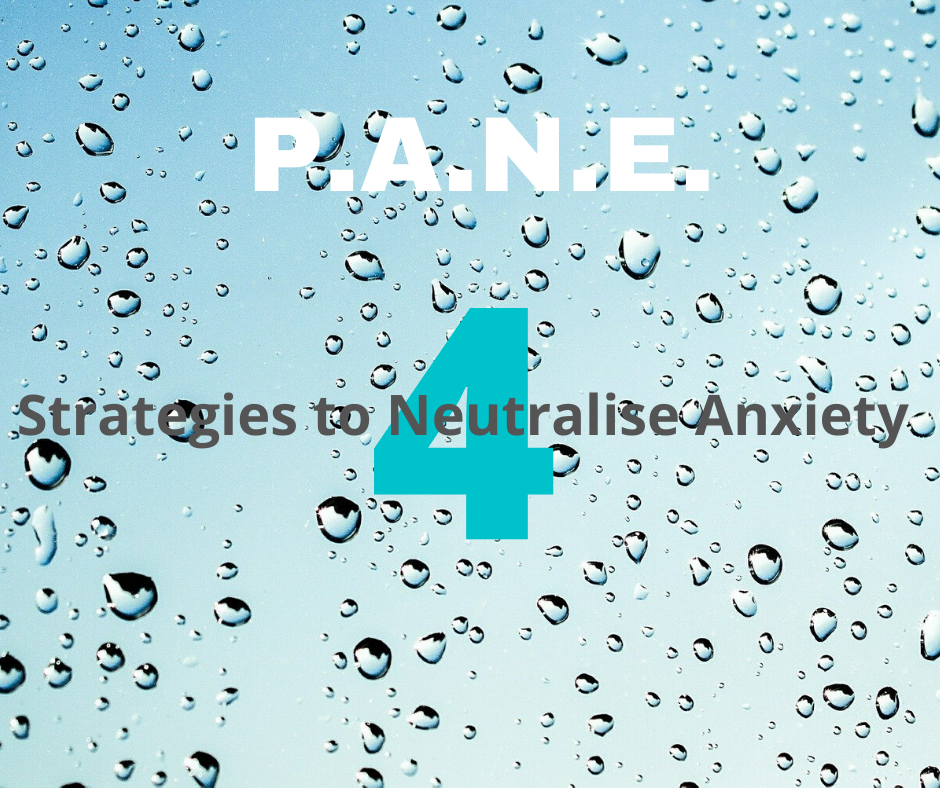 When facing anxiety we have three choices: fight it, numb it or endure it. Choosing the first two can have all sorts of undesirable outcomes in the long run. We can become avoidant, angry for no reason or addictive to our choice of numbing substance/activity.
The third choice involves courage. We can choose to get to know what our anxiety is all about and develop resilience when facing it if we change our relationship with it.
What if instead of slamming the door on it, we could welcome anxiety as a visitor with a message.
"What's it trying to communicate with me?"
"What's it telling me about my relationship with the world and/or myself?"
4 strategies that may help neutralise anxiety by attempting to understand its message.
They form the acronym PANE, the idea of a sheet of clear glass or window through which the world seems safer to enter or engage with.
P – Presence
Explore 'grounding' skills to learn to steady yourself when stress levels rise. What's working for you? Meditation, mindfulness, breathing, movement based practices (yoga, Tai Chi etc.), visualisation, mantras? Over time ongoing practice of any these will lower your brain 'hijack-ability' by excessive worries.
A – Awareness
Observe your Self. Ask questions (like the ones above), find your triggers and be curious about your way of reacting. Useful exploration strategies include journalling, letter writing, blogging, poetry or dialogues with the self. Take advantage of technologies if you wish by using recording or vlogging tools.
Understanding how our brain works or finding evidence that you are not alone with this may also help.
N – Nurturing
Take good care of yourself like you would somebody you care about. You are anxious because you are human. That's how it is. 'Anxiety' will never change, your relationship with it can. Self-blame is like oil to fire for anxiety. Self-compassion is ointment for the burn.
Start out gently, tweak one thing at a time: healthier eating or sleeping habits, some form of self-care, investing in friendships that matter. Even a simple gesture like hand on the heart switches on our rest-and-digest (parasympathetic) system and helps self-regulate.
Find out more about how to grow a steady mind, a warm heart and inner peace with (self-)compassion.
E – Expressive Creativity
Using creative art forms, inventive thinking or physical movement (dance) are all extremely meaningful strategies. All will help make friends with your 'visitor'. Experiment with painting, drawing, building, stitching or even with play dough to bring out what's inside (externalise what's been stuck inside for a long time).
Make your PANE of glass a protective shield, not a wall.