Adapting a curious attitude can help undo stress or anxiety habit loops of our minds. When we're paying closer attention to our inner processes instead of trying to block or numb them we decrease levels of stress and anxiety. Daring to peep into how our minds work will perhaps be slightly stressful first. However, there's mounting evidence that this is one effective way to unlearn old habits. A big step towards living life free of the consequences of anxiety.
What are habit loops? (1)
When our senses pick up a piece of information it may trigger a course of action. Say our tummy rumbles or we start the car and the music roars too load. We act quickly: fill our stomach or lower the volume. These are the actions we take to achieve a sense of equilibrium: the sense of being safe, nourished, balanced and peaceful. Once we've taken these steps we register how satisfying this feels for the moment. This is the reward. Feeling one bit, or perhaps hugely better for a little while.
Trigger – Behaviour – Reward
Repeat. Repeat. And repeat. A habit loop is a recurring cycle like this.
Mind Your Mind
Examining our habit loops or mapping anxiety means to simply become aware of the steps we're taking in this cycle. This way we can learn more about how our minds works thus the discover the root of our default behaviours. We try to identify the triggers that 'make' us behave a certain way. Then we observe how our feelings change from unpleasant to more comfortable.
Read how you can map your anxiety with a simple exercise here.
Becoming the Observer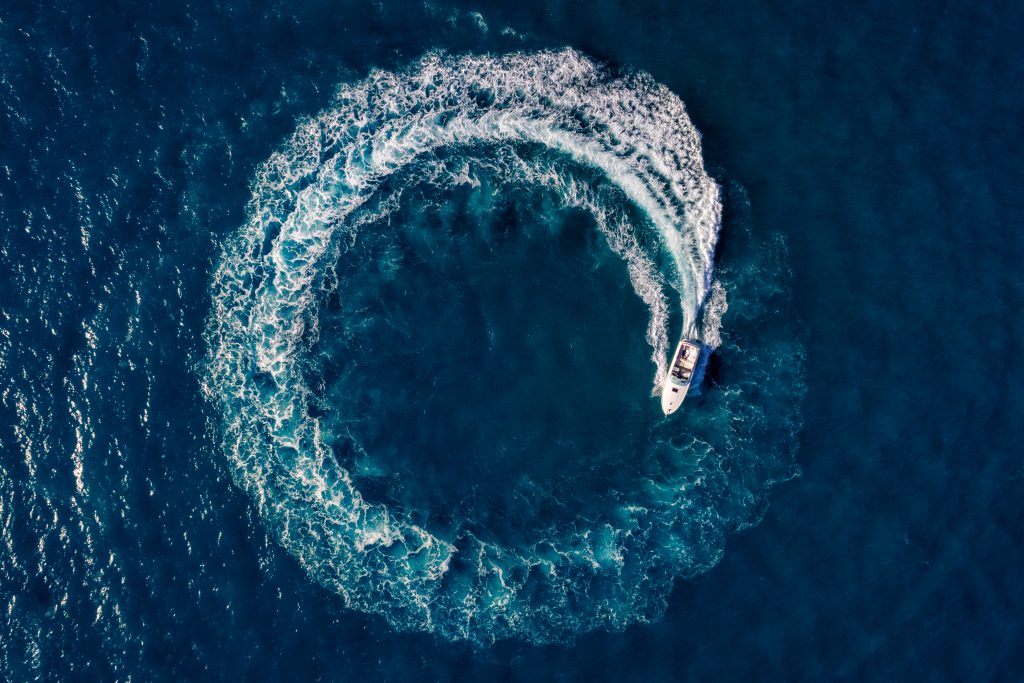 Have you tried noticing some of your habit loops? When you became aware of a behaviour, did this awareness changed anything at all? Did observing it modified the experience itself? The answer for most people is 'yes'. The observer effect in science (mostly described in physics) means the act of observing influences the phenomenon being observed.
Another analogy often used is if you 'don't feed the fire' it will soon die out. Numbing or running away from difficult emotions will make them more intense. However, observe the 'fire' you'll soon notice not being caught in it but being able to be with it. A wave of anxiety may be coming on and you'll recognise it building up then allow it just to be with you and yourself to be with it.
Reward Based Learning
Our minds set up habit loops based on the results of our actions not only the actions themselves. It may sound strange because logically it feels like if we want to change a behaviour we should simply do it. But with any unwanted habits it isn't simple or easy. This is because of the results we've gotten from previous actions NOT the actions themselves.
Our brains interpret these results as rewards and these rewards shape our behaviours. We learn to repeat the actions that make us feel good (positive reinforcement) and also, those that make bad feelings go away (negative reinforcement). At the end we even identify with the behaviours and they become 'US'. We think of somebody as 'an alcoholic', not as a person who's been repeating an action (drinking) to cope with painful feelings.
Positive and negative reinforcement together make up the Reward Based Learning System. Sometimes even certain thought patterns (like worrying) that feed on themselves hijack this system. Anxiety then simply leads to more anxiety. We become more anxious because we're worried that it'll happen. Sounds familiar?
Anxiety – stress gone viral
Anxiety is the feeling of worry, nervousness or unease, typically about an imminent event or something with an uncertain outcome.
When anxious we
constantly regret things in the past and worry about the future without paying attention to what's happening right now.
either get caught up in our story, distract or mindlessly numb ourselves (binging on Netflix or social media, stress eating, gambling, drugs or alcohol, other addictions: work, sex, shopping).
often judge people and blame others for our problems
come down harshly on ourselves
are extremely self-critical and often self-sabotaging
do anything to stop having those thoughts that feel so bad.
We often fuel our habit loops thus keep doing not so helpful, even maladaptive actions over and over. By doing so we don't ease but strengthen the dysfunctional mind habits, actions and associated painful emotions.
Again, the habit loops are just quick fixes, temporary reliefs. Moreover, they don't address the core of our anxiety. All our minds know is that having completed a cycle we feel a tiny bit better. This brief relief is the reward. So the learning cycle is complete.
There's nothing WRONG with you
THIS IS NOT YOUR FAULT though. None of us would purposefully keep our anxiety going. It's just how our brains are evolutionary wired. They try to make us feel better as quickly as possible by any means necessary. Remember, we learn based on the results of our actions. Not by the actions themselves. The issue is though the behaviour (action) we set up as part of our habit loop. These behaviours trip us up.
An observer's mindset?
Understanding our brains' reward system enables us to establish new, healthier rewards. After a few repeats they'll replace the old ones.
From buzzword to scientifically backed up practice – MINDFULNESS
Jon Kabat-Zin, one of the first westerners to study the benefits of this approach says that "mindfulness is the awareness that arises when paying attention in a particular way: on purpose, in the present moment, non-judgementally". An observer pays attention intentionally, open for discovery. Becoming mindful observers of our own mind has proven to be effective in dealing with stress, depression and anxiety.
It's becoming aware of not only the thoughts and sensations that make up anxiety but more importantly how we then react to them with a strong push or pull. 'Do something! This is really unpleasant! Make it go away!'. Non-judgemental awareness rescues us from being caught up in the push and pull of looking for quick reliefs.
Curiosity – The key to non-judgemental attitude
Curiosity helps us turn toward that which is unpleasant rather than try to get away from it as quickly as possible. The observer's mindset is defined by curiosity. Tapping into the mind of the inner child who wants to loose themselves in exploring and growing with new experiences. Curiosity is our innate capacity and courage to be open and welcoming.
We allow ourselves to explore a bodily sensation. 'Oh, what's that feeling?' 'Where is it? How can I best describe it?' It's hard to explore something when we're running away from. Much easier when turning towards it.
For a detailed explanation about how this looks in practice click here.
(1) The phrase and the concept of Habit Loops are adapted from psychiatrist and neuroscientist, Judson Brewer MD, PhD.